Pole Barn vs. Barndominium: What's the Difference?
Both pole barns and Barndominiums have grown in popularity in Western Kentucky due to their flexible design, low cost, and durability as compared to traditional houses. While pole barns and barndos, as they are sometimes called, are similar in concept, they differ in a variety of ways. Pole barn houses vs. barndonimiums: which is right for you? Knowing the difference can help you decide which one is best for your property.
Choosing between a barndo and a pole barn house for your next home can be an exhausting and stressful process. Read on to find out the difference between each one and how to make your choice. If you have further questions, feel free to contact Keystone Construction. We are your leading post-frame construction company in Western Kentucky.
Back to the Basics
There are some fundamental elements differentiating pole barns vs. barndoliniums.
What is a Pole Barn?
A pole barn, or pole building, is the traditional name for a large agricultural structure with no basement, a high ceiling, and wide-open spaces. Laminated wooden posts are used in the frame, and today builders prefer the term post-frame building.
You can use a pole barn as an agricultural building, from fully enclosed buildings to run-in shelters to pavilion-style buildings. Also, equipment storage buildings, with extra-wide sliding doors to hold large farm equipment like combine harvesters, hay storage buildings, greenhouses, and multi-use structures.
What is a Barndominium?
A barndominium is a multi-purpose metal or wood building that contains living quarters. A lot of them are built using the basic shell of a pole barn (Post Frame). It is an affordable, energy-efficient, and low-maintenance solution for residential living. A barndominium combines a living area, usually an extension of a larger open space used as a barn, a workshop, a shed, or some other hobby requiring extra square footage.
Today's barndominiums may be new builds or existing barns that have been retrofitted to make them habitable. This type of building is typically built on an existing property or multi-acre homesite. The structure often acts as a dual-purpose living and shop or work and storage area large enough for things as large as boats and recreational vehicles. These homes are much more versatile than a traditional house and can offer significant cost savings considering everything included in the build.
Pros and Cons of Barndominiums
Pros
Don't use trusses, so you get more usable space. You have more space to build a loft or an upper level and spread out more.

Rust-free and are leak-proof due to the seamless construction

Rigid frames that hold their shape for many years. A

steel-framed barndominium

should stay standing throughout harsh weather conditions.

More design options with more than one level due to the all-steel construction's strength

Lower insurance rates because of the low risk of fire or other damage
Cons
Expensive to build

May require a professional contractor to build your home due to the complex design and local/state building codes.

Requires a concrete foundation which can add to the building expense

Steel buildings are at risk of rusting.
Pros and Cons of a Pole Barn
Pros
Takes less time

and fewer resources to construct, depending on how many details you include.

Cost Effective:

Less expensive

to build than a barndominium per square foot

Easier site preparation, especially if you do not need a foundation
Cons
Shifts more often as the poles move with the ground during each season

Requires more maintenance, especially if it is constructed with wood rather than steel.

Wood may rot and is vulnerable to termites.

Higher insurance rate due to fire risk
Which Should You Choose: A Pole Barn House or a Barndominium?
What criteria should you use to determine which type of structure to build?
Purpose
First, consider your purpose. If you plan on building a house, or a workshop with a living space, then a barndominium might work for you. On the other hand, if your purpose includes a workshop space and a place for animals, a pole barn with small living quarters might be more practical.
Budget
Second, consider your budget, construction costs, and labor costs. Since barndominiums are more expensive to build than a pole barn, think about building a pole barn if your budget doesn't quite cover a barndominium. While pole barns are normally used for farm animals, you could create a second story to build your home. If you are curious about typical barndominium costs, check out this article.
Maintenance
While money is a resource, that's not going to serve you when maintaining your structure. when it comes to pole barn homes, they requiree more maintenance to keep them in good condition. A barndominium requires much less maintenance, so if you don't have decent "fix-it" skills, that might be a better choice for you.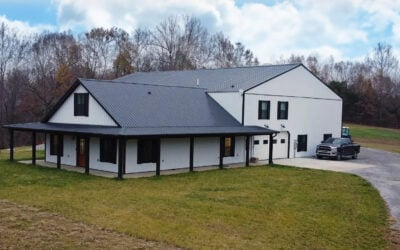 Category #1  |  Category #2Are you dreaming of a unique, custom-built home that combines the durability of post frame construction with the comfort of a traditional house? Look no further than barndominiums - these innovative homes are all the rage! In this...
Contact Keystone Construction to Get a Quote
Are you ready to move forward with your pole barn project? We are your premier pole barn builders in Western Kentucky. Call (270) 633-2676 today or request a quote online.
You Can Also Follow Us on Social
IT'S TIME TO TAKE YOUR NEXT STEP
How Can We Help You?
Keystone Construction, LLC
1289 Northfield Dr, Ste 3
Clarksville, TN 37040
We welcome your visit! Before heading to our office, please call ahead to set an appointment to ensure optimal service.
Shipping & RECEIVING yard
Keystone Construction, LLC
4959 W. Jefferson Davis Hwy
Elkton, Kentucky 42220
Monday - Thursday
8:00am - 5:00pm (CST)
Friday
8:00am - 4:00pm (CST)
© 2019-2022 Keystone Construction. All Rights Reserved.