Are you looking for a company that is passionate about their culture and purpose?
Are you interested in an established company that is experiencing huge growth with an incredible team?
Do you enjoy working with a team that makes you feel like you are part of the team and cares about you as a person?
What is your favorite flavor of ice cream? (Ok, so this one doesn't really matter, but we just wanted to make sure you were paying attentionJ )
Here at Keystone, we are intentional in creating a welcoming yet challenging environment.
We are adding several positions to our Keystone team. We are looking for candidates that are passionate about being a part of our company's culture and success! We've been fortunate to have tremendous growth and want to add to our incredible team.
We are looking for someone that wants to be challenged professionally and personally every day.
Keystone Construction was started in 2005 and has established itself as a high-quality post-frame construction company that prides itself with an exciting culture based on our core values. Currently we serve customers in Kentucky, Tennessee, Indiana, and Illinois.
Our #1 goal is to serve God though our lives and business. We want this to inspire and impact everyone we meet. We believe, to do this, we need a people-first mentality with humility. We aim to get better every day through a continued growth mindset and, of course have FUN while doing it!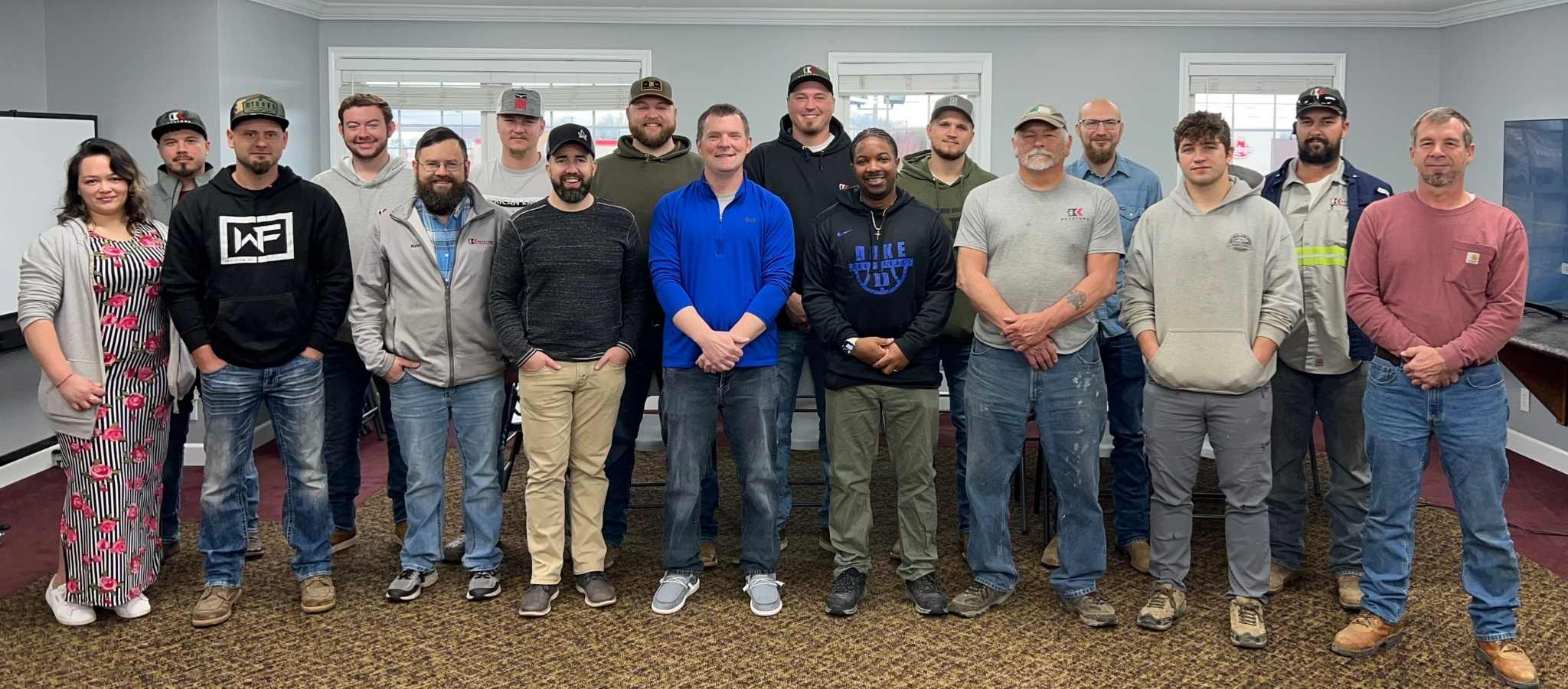 Fill the form below and upload your resume to apply at Keystone! If we don't have the position you're looking for right now, you'll be eligible for consideration when the position opens up.
Outside Sales Representative
1289 Northfield Dr, Ste 3
Clarksville, TN 37040
Responsibilities
Build and sustain long-lasting relationships with new and existing customers
Travel within the company perimeters (currently within 100 miles of Elkton, KY) to conduct face-to-face meetings with existing and potential customers.
Continually meet or exceed sales targets by selling company products to new and existing customers.
Develop and implement an effective personal sales strategy to drive sales.
Maintain an accurate record of all leads, customer accounts, and sales using Pipedrive and Monday.com as tools.
Collaborate with marketing and purchasing team to better understand products, brand awareness and customer demographics.
Prepare presentations, quotes and contracts for new and existing customers.
Stay updated on competitors' products and pricing as well as market conditions.
Keep abreast of the latest industry developments by attending meetings, training workshops, and industry events.
Strategically negotiate with potential and existing customers to close sales.
Location – Clarksville, TN with ability to drive within 100 miles of Elkton, KY to job sites
Purchasing/Inventory Control
Responsibilities
Responsible for inventory control to include purchasing stock and special-order items, organizing and receiving inbound materials
Maintains knowledge of trends, prices, buyers and delivery conditions to anticipate future material and availability; direct purchasing programs accordingly.
Collaborates with core team, sales, and logistics to maximize efficiency in the purchasing and inventory control area.
Identify and resolve any and all issues related to product quality, pricing, delivery, utilization, loss
Build relationships with new and existing vendors to maintain positive relationship.
Identify the most appropriate supplier/vendor for each product for optimal cost and delivery times, determine availability, perform comparative pricing and negotiate pricing, confirm quality of products and establish delivery requirements/timelines.
Input and maintain database of all products and ensure in-house pricing is up to date.
Perform inventory cycle counts, spot counts and month end reconciliation process; research any variances and report needed inventory adjustments to COO
Update and educate sales team on any new products that may be more efficient or cost effective, obsolete products, product trends and sales points for each product
Conduct records audit of inventory, adjustments and other metrics and prepare reports of findings to COO as requested.
Project Manager Assistant
1289 Northfield Dr, Ste 3
Clarksville, TN 37040
Responsibilities
Assist with liaising with project stakeholders concerning project details and deliverables
Assisting in the planning and implementation of projects
Helping to coordinate and manage project tasks and deliverables
Analyzing data as required
Conducting administrative duties, such as setting up meetings, drafting invoices, reporting and drawing estimates
Tracking and reporting project progress
Performing other duties assigned by the Project Manager in an orderly and efficient manner
Obtain permits and licenses from appropriate authorities as needed
Assist with planning all construction operations and schedule intermediate phases to ensure deadlines will be met
Location – Clarksville, TN 
Marketing Associate (Social Media/Website/Photography)
1289 Northfield Dr, Ste 3
Clarksville, TN 37040
Responsibilities
Creating and implementing Keystone's social media strategy to help enhance the experience with our brand, build community, boost brand awareness ensuring our tone and culture is used at all times, and increase engagement
Daily social media listing, social media engagement, online presence monitoring, social media content production, and paid and organic content distribution.
Promote, market, listen, engage, and communicate with customers and prospects promptly using our tone and culture through social media and online platforms.
Manage all social media accounts, ensure all information is current, and maintain proper security measures and recovery information for all accounts as needed.
Create and manage Keystone's social media editorial calendar and develop a repeatable plan to repurpose existing content that supports our goals
Create, edit, and upload online content for all social media platforms to ensure continuous growth and engagement, including creating engagement campaigns, giveaways, cross-promotional events, Facebook live events, etc.
Work with our marketing team and CEO to develop assets and ensure brand consistency
Measure accounts' performance, draw actionable insights, and report on analytics results
Stay up to date on digital trends, social media community policies, and best practices for all social media platforms
Design and ensure ordering of all sales marketing materials. Work with the Core Team to determine needs and final design.
Photograph and video(knowledge of drone operations a plus) content on a regular basis and edit it into engaging short and long-form content for posts on website and social media. Able to travel to all job sites (within 100 miles of Elkton, KY)
Location – Clarksville, TN with ability to drive within 100 miles of Elkton, KY to job sites
Keystone Construction, LLC
1289 Northfield Dr, Ste 3
Clarksville, TN 37040
We welcome your visit! Before heading to our office, please call ahead to set an appointment to ensure optimal service.
Shipping & RECEIVING yard
Keystone Construction, LLC
4959 W. Jefferson Davis Hwy
Elkton, Kentucky 42220
Monday - Thursday
8:00am - 5:00pm (CST)
Friday
8:00am - 4:00pm (CST)
© 2019-2022 Keystone Construction. All Rights Reserved.