Is a Barndominium the Best Home for your Family?
A Barndominium may be something you've never heard of before. You're not alone! Although rapidly gaining in popularity, they're still a relatively new concept in the home construction and design industries. Even if you have heard of them, do you know if a Barndo home could benefit you and your family? A surprising amount of people have found the answer to this question to be YES!
Are you shopping for a family home that provides extra space for work and fun?
Have you researched alternative homes like Barndominiums (Barn Homes) that could save you a ton of money?
What if you could save thousands on construction cost, while also investing in an environmentally- friendly solution?
If these questions spark your interest, then the open floor plans and high-ceiling designs of our modern Barndominiums are certainly worth the next few minutes of reading!
Let's explore why Keystone Barndos are the most trendy and affordable new home design for your family! What are the benefits of a barndominium?
What Exactly is a Barndominium?
Barndominiums or "Barndos," as they are lovingly referred to by their owners and fans, are exactly what the name implies. Barndos are large post-frame barns that have been designed or converted into living spaces. These residential structures are incredibly sturdy, spacious, and are much more affordable than traditional stick-built homes.
This is not to say that agricultural barns aren't "traditional." You can't find a much more rustic and reminiscent style than the tried-and-true pole barn design!
Barndos have become insanely popular in mainstream media over the past couple of years after being featured on an episode of the HGTV show Fixer Upper. They are now the hottest trend in affordable home construction throughout the United States.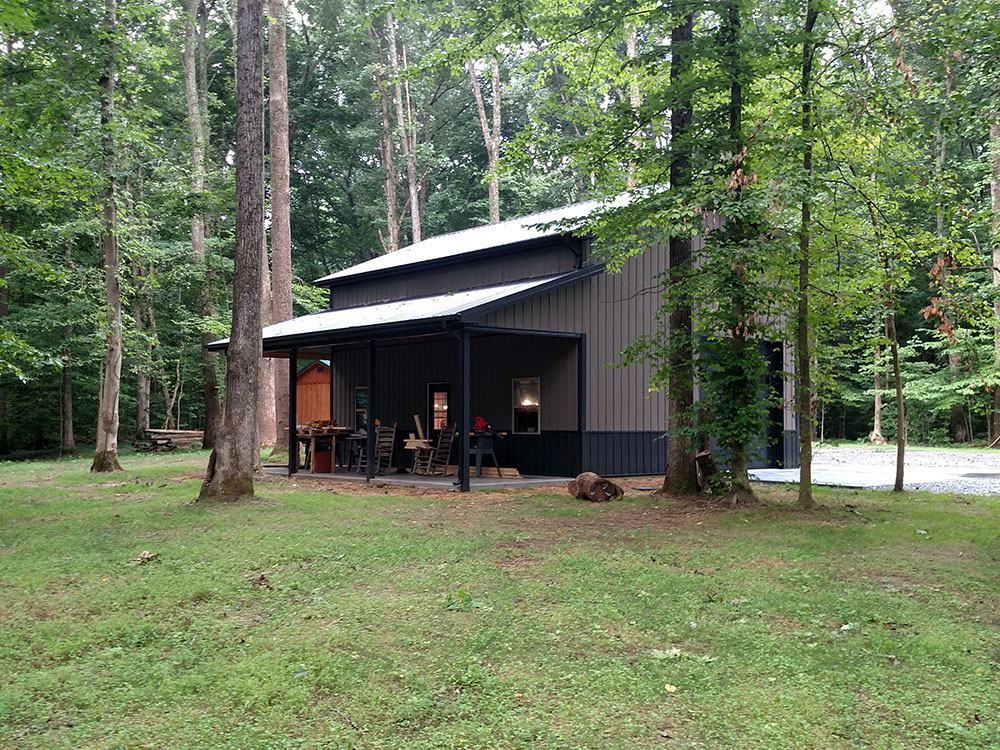 Barndos are post-frame buildings with load bearing posts that extend directly into the ground. These custom-designed buildings bring spacious and durable construction to a whole new level, while offering many options for green and environmentally friendly lifestyles.
What are the Common Features of Barndominiums?
Concrete Slab Floors (Often painted or tiled after construction)
Energy-efficient windows and doors
Oversized exterior wall cavities for creating a highly energy efficient home
Exceptionally durable steel roof and sides, providing a certified eco-friendly design
Barn doors (if desired) and rustic wooden staircases for two-story construction
Open floor plans with soaring ceilings
Wrap around covered porches
Extra space for workshops, home offices, storage, or a retail store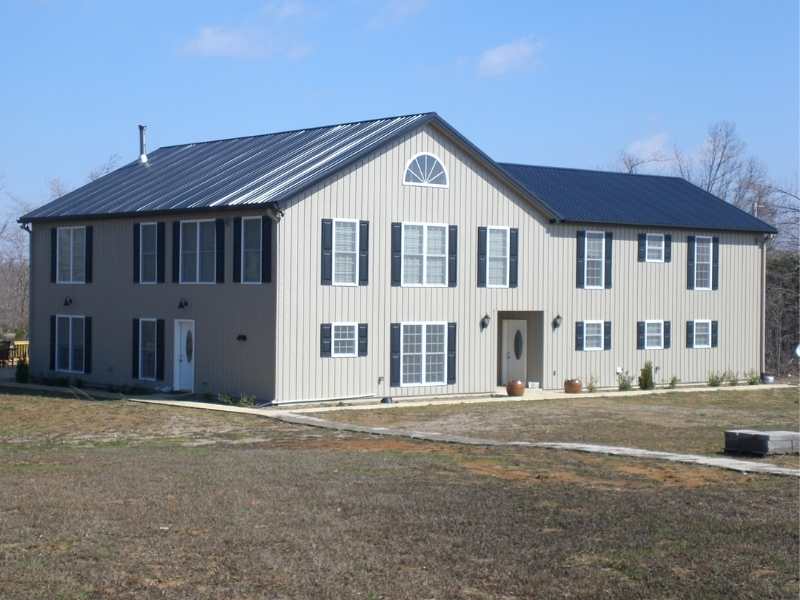 How will I Benefit from a Barndominium?
This question has a remarkably simple answer. More space at a lower cost for you!
Barndos are the most affordable, energy-efficient, and minimal maintenance option on the market today for residential construction. These homes can be constructed using energy efficient windows, spray foam insulation, high efficiency plumbing, solar options, and eco-friendly reflective siding.
Feel confident that you're saving money both in the short-term on building materials and labor, but also long term as you cut down on overuse of electricity, water, and heat.
The benefits of a barndominium for you and your family don't end with the cost savings. That feeling won't even end with the positivity you and your family share by knowing that your choice of home is actively helping save the planet.
In addition to these obvious benefits, you will also experience a more spacious living environment than ever before. Barns are designed to be functional and to provide an open and spacious interior where a variety of agricultural tasks can be completed. Historically, this has included the moving and housing of large, powerful animals.
This "openness" and strength of pole barn style construction translates into a much more spacious feeling for your family. In a Barndo, you'll have room to play and engage all types of hobbies that would be restricted in tight hallways and under low ceilings in most common residential homes.
In addition, when it's time to escape for much-needed alone time, you don't have to feel claustrophobic like you are in a "man cave" or "she shed" to find privacy. Your getaway room can now have a vaulted ceiling with plenty of open space to exercise, stretch out, meditate, craft, or jam out on musical instruments.
Even if your family is not the gentlest of inhabitants, these sturdy buildings are designed to protect and contain the movements of farm animals that massively outweigh and outmuscle humans. Barndominiums are built for strength and durability. Your kids (of any age) aren't going to be able to easily damage this sturdy post frame building.
Why is a Barndominium a Better Investment than a Stick-Built Home?
#1 – Barndos are unique. There's simply something special about Barndominiums that give you bragging rights amongst friends and co-workers! They can be customized to the exact specifications, wants, and needs of your family.
#2 – Barndos are versatile! Barndos are typically designed with an open floor plan. This means that they can be customized to meet any style or functionality that you have in mind. You can include a workshop, home office, bar, gym, studio, retail store or anything else you might dream up. The possibilities are endless!
#3– Barndos are low-maintenance. Maintenance with a Barndo is much lower due to the metal roof and siding. This makes Barndos incredibly durable over the long-term.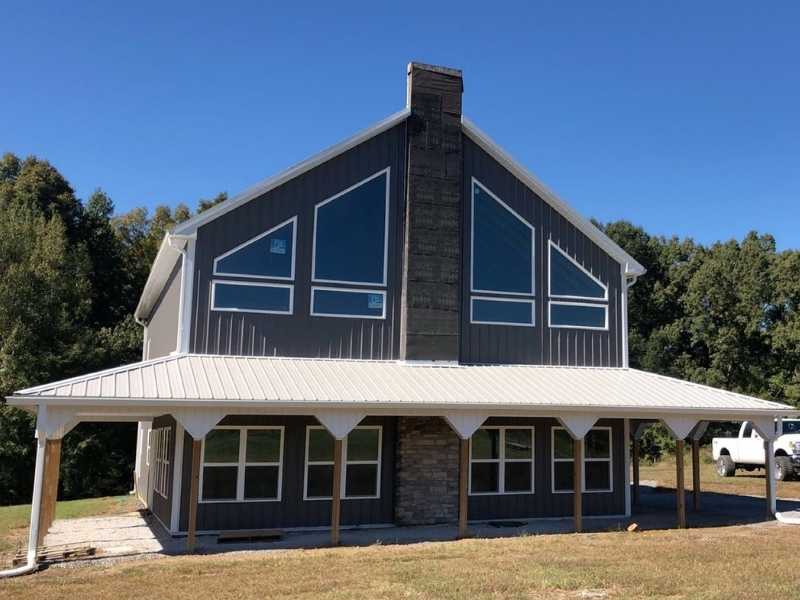 Save money by not needing to replace traditional vinyl siding, shingles, rolled insultation, and various other features that will deteriorate more rapidly in a traditional build.
#4 – Barndos go up fast! The post-frame design found with Barndos can be built in a fraction of the time needed for a custom stick-built home. If you're not wanting to wait a year or more to move in, then a Barndominium is your best option for fast construction.
#5 – Barndos are environmentally friendly. We use steel panels on our Barndominiums for the walls and roof, which are a major element in making a home energy efficient. The design of these post frame homes also allows for optimal insulation and weatherization, resulting in reduced spend on heating and cooling. The roofs also have high reflectivity ratings, which adds to the energy savings and interior temperature stability.
#6 – Barndos can be expanded! You may find that you desire more space in the future. Unlike the traditional stick-frame homes, Barndominiums are much easier to modify. This is a HUGE benefit for people who have plans for expanding the family over time, or transitioning to running a business from home.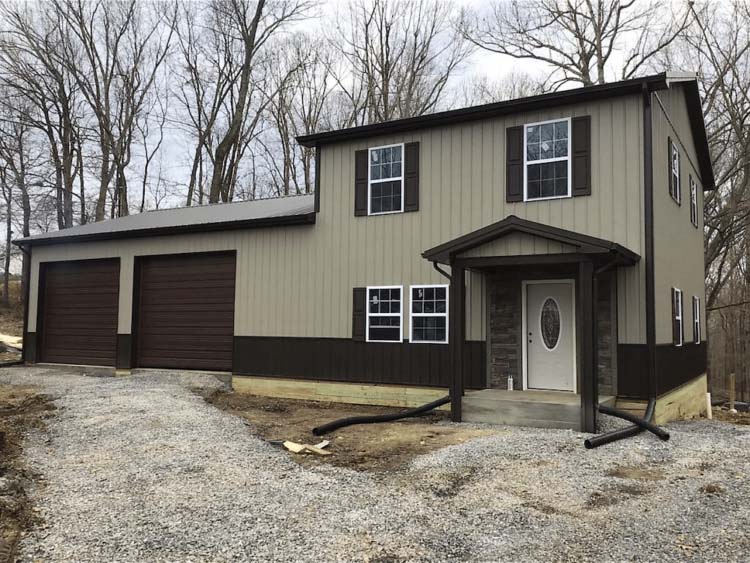 How much money will I save by buying a Barndominium?
The exact price of your custom Barndo can range widely. This is due to the variety of building styles, sizes, and how you choose to finish out the interior of the home. It's entirely possible to add so many features to a Barndo that the price rivals a stick-built home. However, this is rarely the case.
For starters, the initial cost of construction for a Barndo is much less. These residential Barndos are engineered to require fewer building materials. This is incredibly important considering the high price of lumber currently, along with persistent supply chain issues related to other construction materials.
The construction of a Barndominium is completed much faster than that of a stick-
built home. This means less expensive labor cost drawing from your construction budget, along with the added benefit of a closer move-in date for your family!
Additionally, you'll enjoy ongoing energy savings in your new Barndo. This is thanks to our Keystone designs having fewer thermal breaks than a conventional building. Our custom designs feature posts that are 8-feet or more on center, which can be better insulated than studs 16 or 24 inches on center in a stud frame building.
The Barndo experts at Keystone Construction can also discuss other elements of your custom design that will increase the environmental friendliness of your new home. Choosing design features like reflective paint and energy efficient windows will allow you to check off all the earth-friendly features you desire!
Our team is knowledgeable about what is required to design a custom eco-friendly home, and they will build your Barndo according to the exact specifications you request. If you don't know what's needed for a green home, we can answer all your questions!
Ready to talk to an Expert about building your dream Barndominium?
Questions to ask yourself while deciding if a Barndo is right for you:
How much money can you realistically afford to spend on your new home construction?
Which features do you truly need in your home, and which are 100% necessary to achieve complete satisfaction with your new post-frame building?
What additional features and amenities would you just LIKE to have? How important are these features and what are they worth to you?
Is an Eco-Friendly design important to you?
How quickly would you like to see your new home built?
Do you enjoy open spaces, or do you prefer the privacy of multiple interior walls and rooms? (Both are possible with a Barndo, but can affect your overall price)
Where do you plan to build? Do you own land? Does it need to be cleared?
Has your building site been approved for a well and septic, or alternatively for city utility connections?
So that's about it for now. Do you have any additional questions about Barndos or post-frame construction?
We've done our best to provide you with a wealth of information regarding the benefits of Keystone Barndominium Construction. We hope that this has provided you with a much better foundation of knowledge as you move forward in planning your new family home.
However, we know that you'll have project-specific questions as you begin to plan your new dream Barndo!
Please feel free to reach out to your Keystone Barndominium Experts by using any of the contact options below:
Get a Free Estimate for a Barndominium
When you're ready for your upcoming barndo project, we can help every step of the way. Keystone Construction has everything you need to build the perfect custom barndo or post-frame home. Call (270) 633-2676 today or request a quote online.
You Can Also Follow Us on Social
IT'S TIME TO TAKE YOUR NEXT STEP
How Can We Help You?
Keystone Construction, LLC
1289 Northfield Dr, Ste 3
Clarksville, TN 37040
We welcome your visit! Before heading to our office, please call ahead to set an appointment to ensure optimal service.
Shipping & RECEIVING yard
Keystone Construction, LLC
4959 W. Jefferson Davis Hwy
Elkton, Kentucky 42220
Monday - Thursday
8:00am - 5:00pm (CST)
Friday
8:00am - 4:00pm (CST)
© 2019-2022 Keystone Construction. All Rights Reserved.