Where Can I Find a Pole Barn Builder Near Me?
Unlike general contracting or garage door installation, pole barn builders have a narrow niche in the construction industry. As such, companies provide a more specialized service that must often meet rigid specifications, usually within the agricultural field. For this reason, people often ask, "Where can I find a pole barn builders near me?"
Fortunately, residential and commercial property owners have access to pole barn builders in Western Kentucky. In addition, contractors can build pole barn structures for a variety of applications such as fully enclosed buildings, run-in shelters, pavilion-style buildings, equipment storage facilities, and even greenhouses.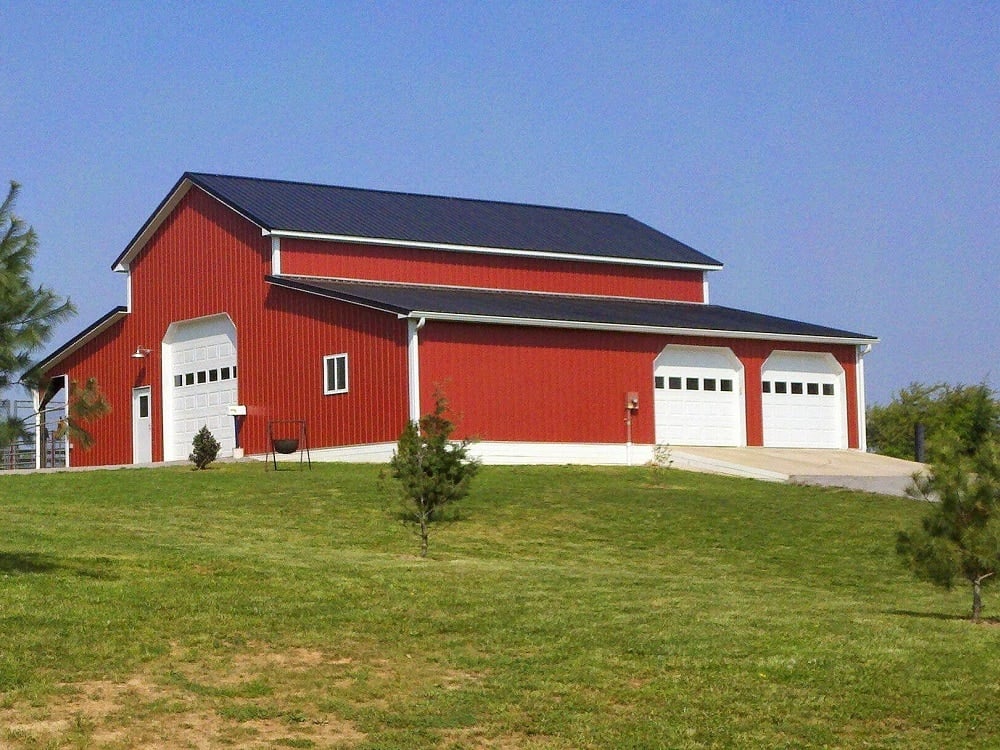 A pole barn is a type of structure built around a post-frame construction. The posts, which builders bury several feet into the ground, act as the foundation for assembling the frame. This type of structural model allows contractors to erect barns efficiently and affordably. The design also makes pole barns highly adaptable to almost any environment or application.
There are several characteristics of a pole barn that distinguishes it from similar structures.
Pole Barn Differentiators
Adding concrete to the foundation is optional.

Pole barns cost up to 30 percent less than other similar structures.

You can use pole bars for a variety of applications (not just farming).

Reduced material and labor costs.

Reduce maintenance and part replacements costs.

Pole barns allow for improved insulation or ventilation, depending on the design.
What Are the Benefits of Hiring a Pole Barn Builder Near Me?
It's possible to hire a national chain or order a DIY pole barn kit from a national company. However, you may want to consider hiring a local pole barn builder in Western Kentucky. There are several benefits of working with a local contractor.
Greater Accountability
Chances are, local pole barn builders are your neighbors. As such, there is a greater sense of accountability when completing a job. After all, you know where the office is. If there is a problem with the barn, the contractor is more likely to take care of it right away. They will do what it takes to keep their local reputation intact.
Personalized Serviced
As a corporation grows and expands nationwide, personalized, quality customer service becomes more challenging to maintain. Local pole barn builders near you understand the value of small-town, personalized service. They take more time per project, value your input, and work hard to gain your trust and satisfaction.
Better References and Customer Reviews
Local companies that provide exceptional customer service and a first-rate product have a way of building a loyal customer base. Those customers share the company with others via word-of-mouth. These days that includes text messaging, emails, social media, and online customer reviews. If you are looking for a reputable pole barn company, first ask around for a local contractor. You will have no problem getting references.
The Money Stays in the Local Economy
Sure, there are some perks to working with national chains. However, nothing creates community pride like a strong local economy. When you buy local, you empower small business owners to do the same type of work at the same level of quality as larger businesses.
How to Find a Local Pole Barn Builder in Western Kentucky
There are several ways to find a local pole barn builder in the Western Kentucky area: 
Referrals from family and friends

Social media sites (Facebook, Twitter, etc.)

Do a Google search (type in 'Pole Barn Builder Near Me')
When looking for pole barn builders, there are several things to keep in mind. First, find a builder that is licensed and certified in the state of Kentucky. Also, only hire a builder that carries insurance.
When asking for references, be specific about what you are looking for and ask lots of questions. Visit the company's website and search the Internet for customer reviews. Finally, you may want to ask for a contractor's portfolio so that you can see their past work.
Contact Keystone Construction to Get a Quote
Are you ready to move forward with your pole barn project? We are your premier pole barn builders in Western Kentucky. Call (270) 633-2676 today or request a quote online.
You Can Also Follow Us on Social
IT'S TIME TO TAKE YOUR NEXT STEP
How Can We Help You?
Keystone Construction, LLC
1289 Northfield Dr, Ste 3
Clarksville, TN 37040
We welcome your visit! Before heading to our office, please call ahead to set an appointment to ensure optimal service.
Shipping & RECEIVING yard
Keystone Construction, LLC
4959 W. Jefferson Davis Hwy
Elkton, Kentucky 42220
Monday - Thursday
8:00am - 5:00pm (CST)
Friday
8:00am - 4:00pm (CST)
© 2019-2022 Keystone Construction. All Rights Reserved.